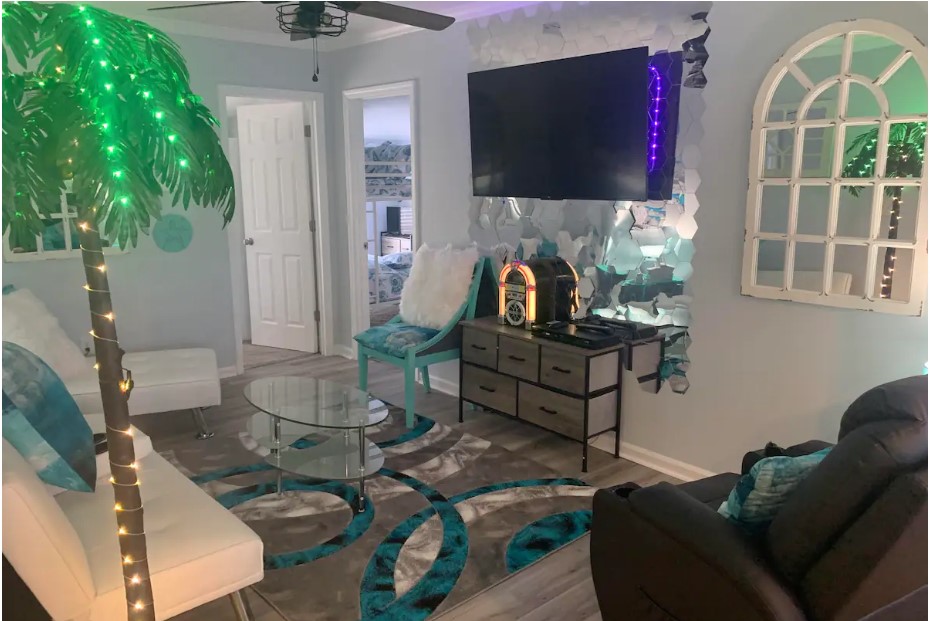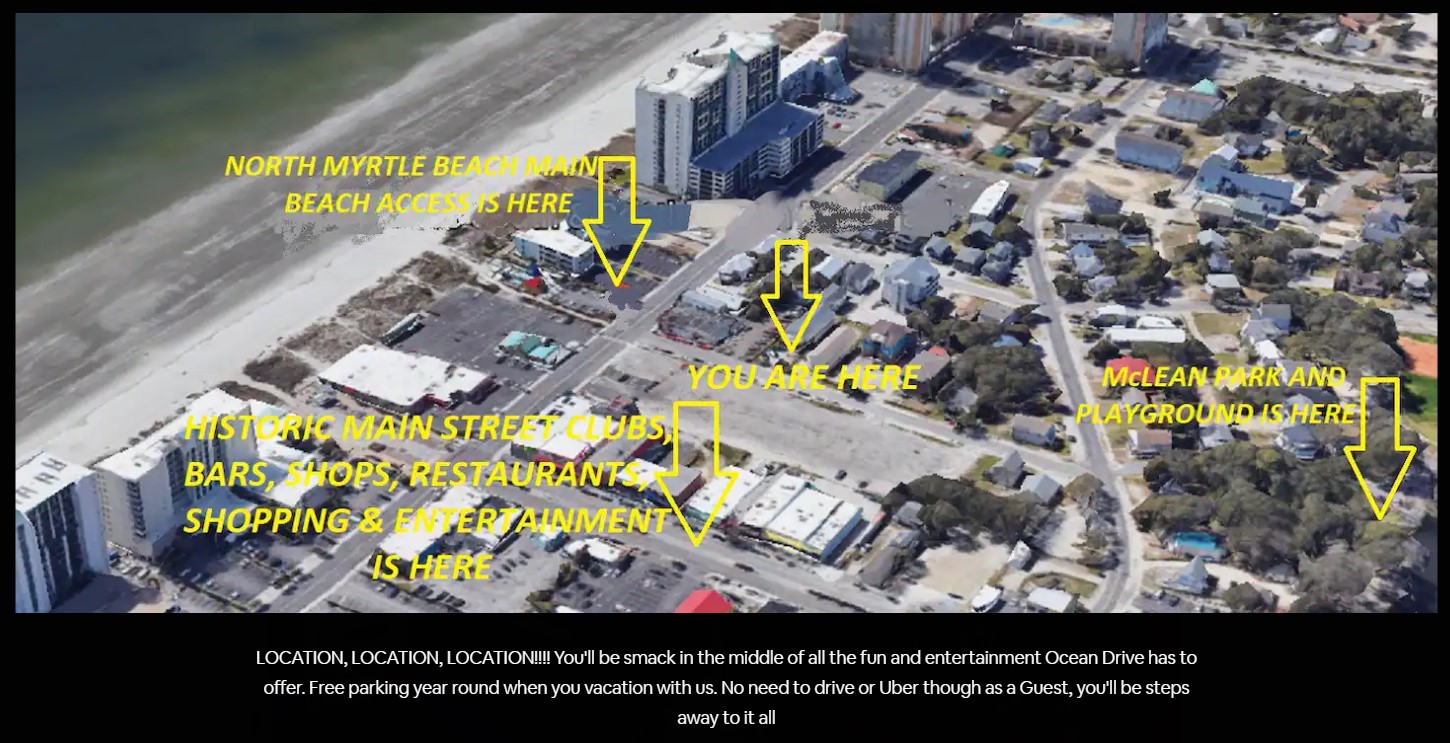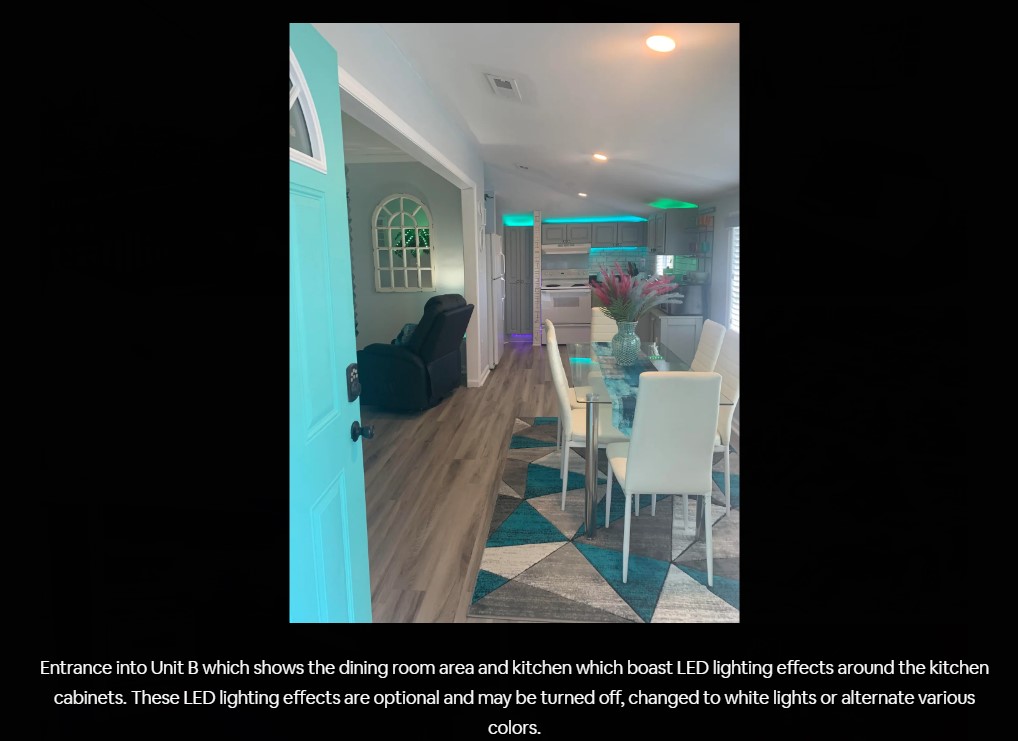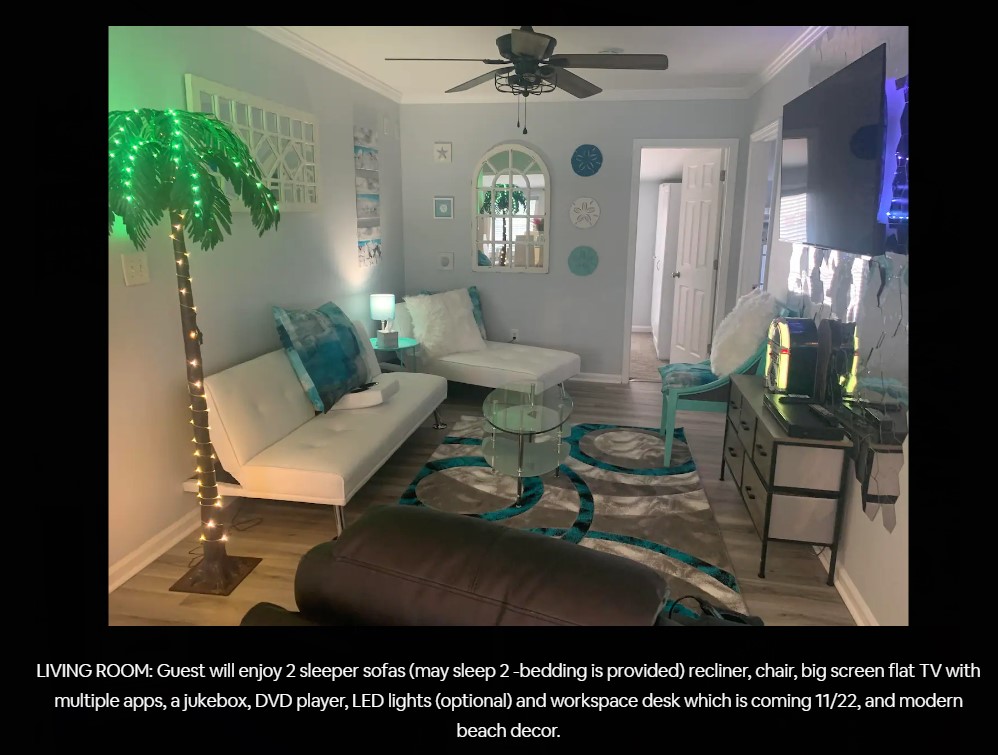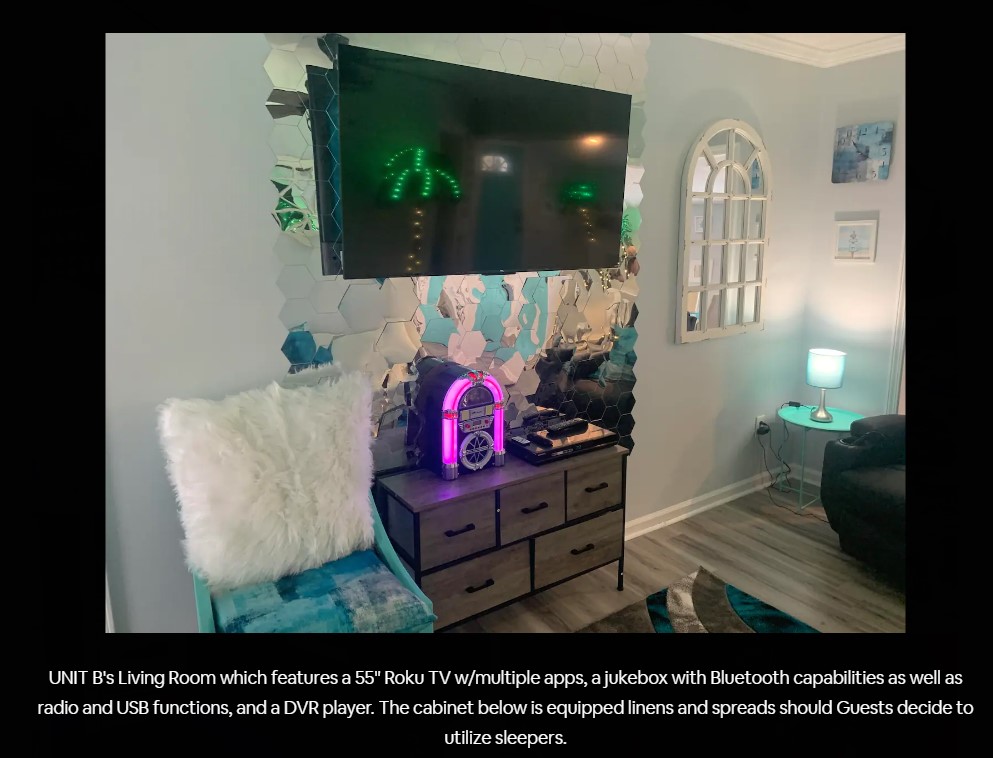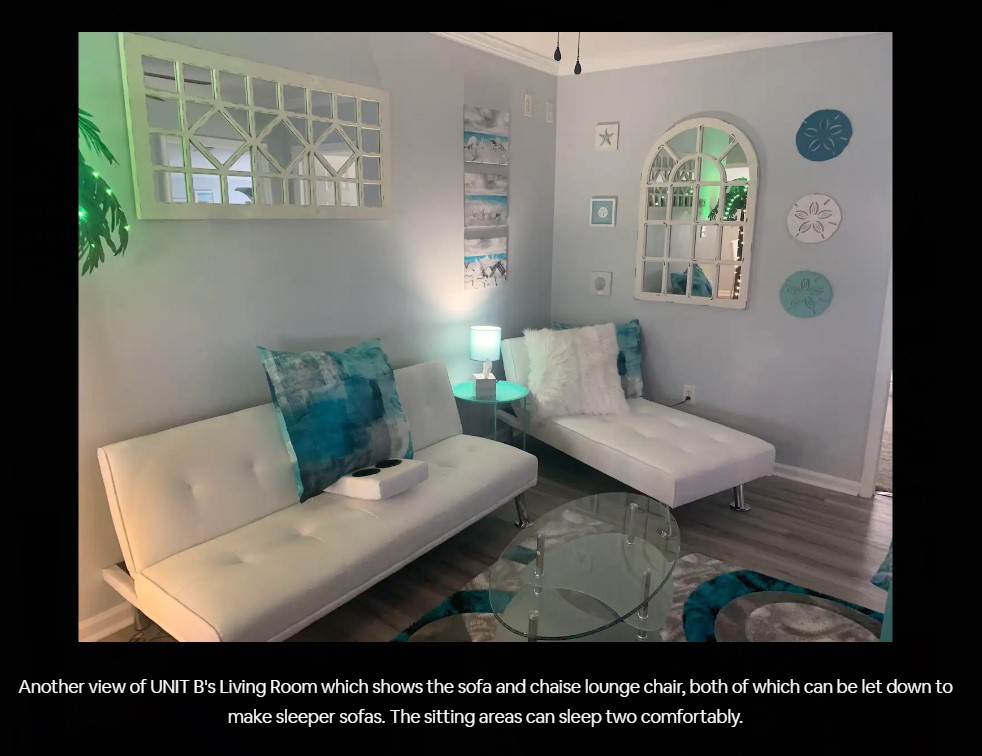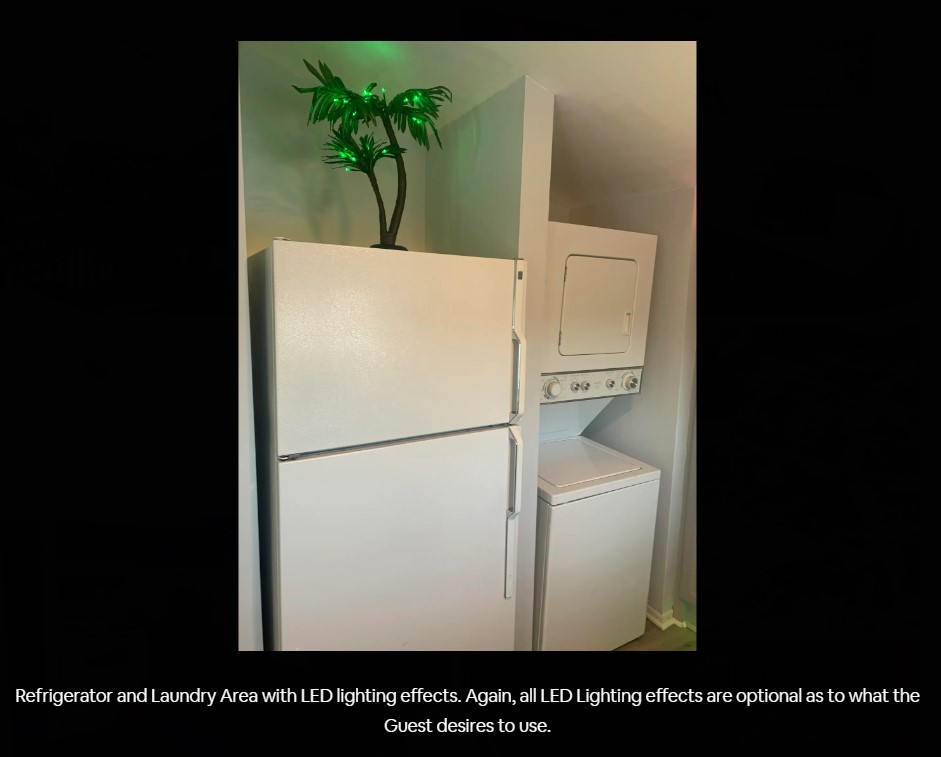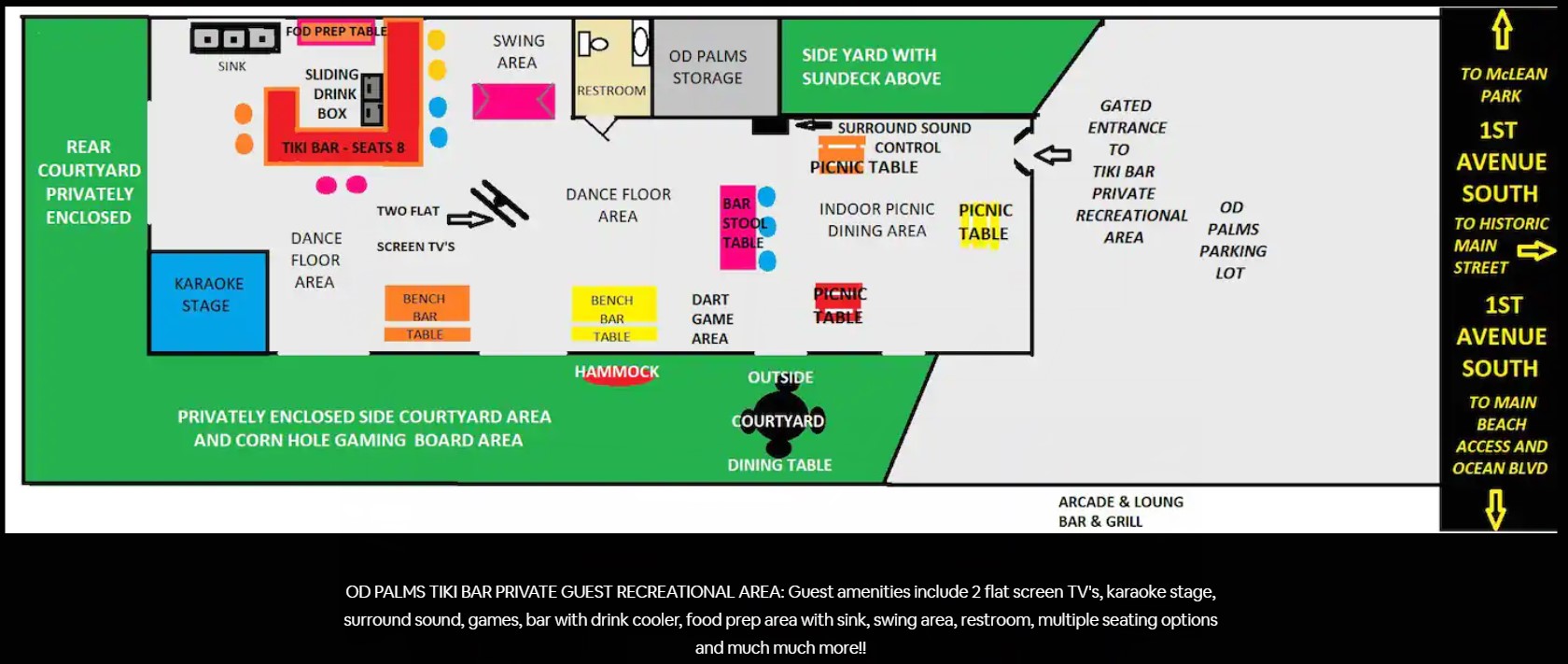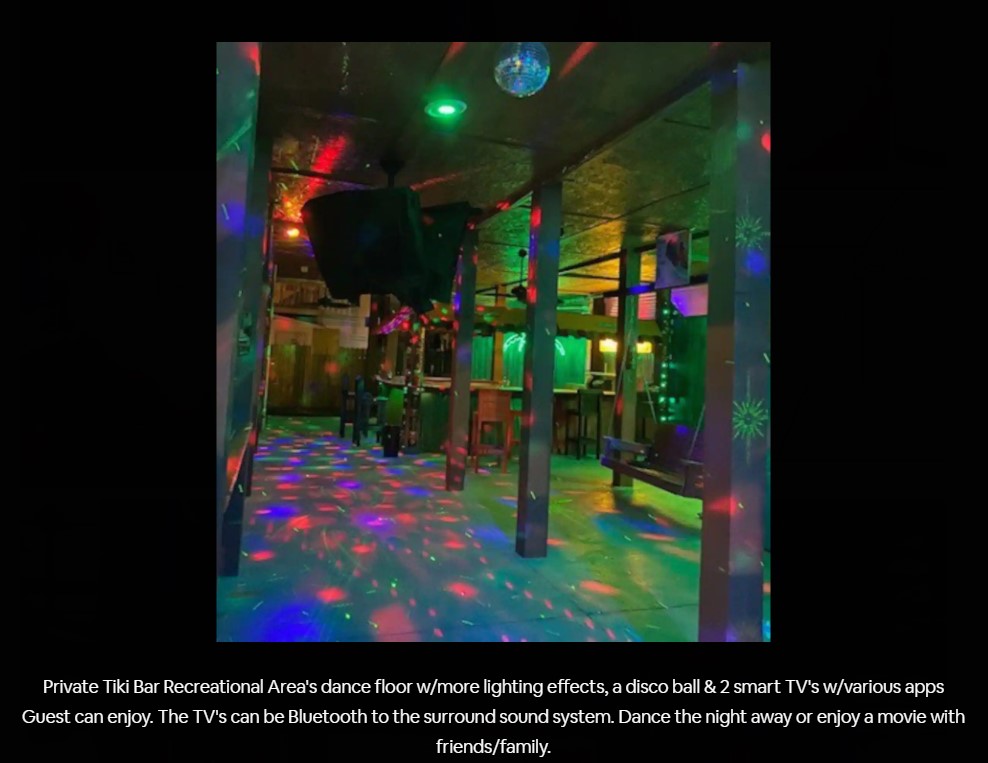 TIKI Palms B & C
107 1st Ave South
Sleeps 10
|
Baths 2
|
Bedrooms 3
Two units.. B&C- each side is 3bdrm/2bath/sleep10
Each Newly remodeled & decorated w/ a Miami Beach flair, this 3 bedroom/2 bath is beside Historic Main Street & across from North Myrtle's Main Beach Access. FREE GUEST PARKING!! Guests are steps to attractions. Guest may watch area concerts on our raised sundeck and enjoy the ocean breeze. Guests have full access to our private enclosed 2400 Sq. Ft. Tiki Bar & Rec. Area w/ surround sound, 2 Smart TV's, food prep area, box cooler, hammock, cornhole & other games, and two privately fenced courtyards.
The space
ENTRY VIEW:

When first entering the parking lot of the property, Guests will notice a secure area with a closed double gate entry that has Tiki decor. This is the OD Palms private Guest Tiki Bar and Recreational Area. This part of the retreat will be discussed later at the end of this space description. Once on the breezeway of the building complex, Guests will notice a raised Sun Deck to their right which features four cushioned sun loungers with two side tables as well as a four-seat outdoor table with umbrella.

THE SUN DECK:

Guest will have full access to the Sun Deck area during their stay. At night the Sun Deck provides a nice area to lounge, have a beverage or snack with friends & family, all while enjoying the city lights, skyline views and ocean breeze. Surrounded by the colors of the many light effects the Sun Deck has to offer, Guest can also enjoy listening to regular nightly entertainment such as nearby street bands.
However, in the daytime Guests may enjoy their morning coffee and breakfast, lunch and afternoon beverages all while sunbathing and making memories with their group as well as enjoying the city landscape, peak view of the ocean and its nice breezes.

THE RENTAL: Two separate units

When first entering the newly remodeled and refurnished 3 bedroom/2 bath Unit, Guests will notice the Miami Beach modern decorative flair that flows through each room of the deluxe unit. The unit can sleep 8, or possibly as many as 10 guests, as there are two layouts - a sofa and a chaise lounge - located in the Living Room that could sleep two additional persons if Guests so desire to do so.
The kitchen is fully equipped with common cookware, dishes, stove, refrigerator, microwave, coffee maker, blender, electric can opener, toaster, dish towels/rags, and a laundry area with a washer and dryer. An iron and ironing board are also provided.
Fresh linens, pillows and bedding covers are provided for all three bedrooms as well as the two let outs in the Living Room. The two full bathrooms are equally equipped, each containing clean towels, washcloths, hair dryers, and complimentary soap, toilet paper, shampoo and conditioner. Bedroom one sleeps two comfortably while bedrooms two and three can sleep up to three guests each.
Each bedroom is equipped with closet storage as well as drawer chests for Guest's clothing storage. Each bedroom, as well as the Living Room, is equipped with smart TVs with various applications to be used for Guest's entertainment. The Living Room also has a DVR player as well as a Jukebox that has Bluetooth capabilities as well as Radio and USB capabilities. LED Lighting features are in all rooms of the unit and may be used by the Guest as they wish as they are an optional feature.

TIKI BAR/RECREATIONAL AREA/COURTYARDS:

This area is probably the most fun amenity for Guests as it boasts over 2400 square feet of covered semi-inside recreational area for use by Guests and their families and friends only. Closed to the public and completely secured off, the area provides an indoor picnic table area with three picnic tables, three bar tables, two dance floor areas, the fun swing area, a karaoke stage, a large Tiki Bar with barstools, gaming area, a restroom with toilet, sink and mirror, a surround sound system, dance club lighting effects, two fully app equipped hanging Smart TVs, and two privately fenced courtyard areas with hammock and outdoor table seating. The inside area also has several ceiling fans, and the fun swing area is equipped with a fog machine which adds extra brilliance to the area's lighting effects.
The Tiki Bar comes equipped with a commercial slide door beverage cooler, food preparation area with butcher block countertop, cabinet storage and shelf space. There is also a three-compartment commercial stainless-steel sink in the bar area as well as a rolling server cart-cabinet. The Tiki Bar features above head lighting as well as a retro lighted menu sign.
The courtyard area provides a relaxing place for Guests to play cornhole or simply relax in the hammock or dine outside. The TVs, as well as phones and other devices, may be connected through Bluetooth technology for Guests, their friends and family, to enjoy music or watch a movie with surround sound in the evening.
This is a great place for Guests to enjoy Birthdays and other shared family and friend events without having to leave the OD Palms Retreat property. Guests must be mindful of the City of North Myrtle Beach's sound ordinance should they utilize the sound system. Guests shall be oriented to these city rules and regulations. Further accommodations for this unique area can be provided for additional fees. Otherwise, this area is offered as a complimentary accommodation for Guests.